10th Nov 2018 8:00 am
All that separates the AMG GT R from the Nissan GT-R is a hyphen. In practice, we assure you, it's so much more than just that.
To say I'm being unaccommodating is an understatement. Hell, I'll admit I'm being downright selfish at this point too. For one, it's high noon on a blistering hot day, and on top of that, we only have a precious few hours with this dream duo (it's a comparison test anyone with a basic knowledge of cars and the alphabet would be dying to do) before they're loaded into separate trucks and packed off on lonely journeys home. Kuldeep, camera plonked in his lap, sulks away in the passenger seat, and not even the wildly fluctuating G-forces can turn his frown upside down. All he wants is to stop and take a photo and I won't let him.
The Land of the Rising Sun
Sorry, but this is my first time having a proper go in a Nissan GT-R and, though I've heard every single excited rave, from my colleagues and elsewhere, now that I'm actually at the wheel myself, it is astounding me more and more with every passing metre. I know this road very well; I know the long straights, the blind corners, the crests, bumps and braking points. But even after I've recalibrated my limits to accommodate a 570hp super-coupé, I keep finding room to push them some more. This car is unbelievably easy to drive fast. The steering is smooth and not too heavy, yet turn-in is rather sharp, the grip is so tenacious that you're well aware that a mere mortal like yourself could never unstick it, the power is progressive and easy to dole out, and the ride is so absorbent, it simply takes everything in its stride and lets you get on with the business of going very, very fast. The incredibly detailed, PlayStation-derived readouts on the touchscreen (oil pressure, boost pressure, G-forces, the works) are flashing away in the background, but I'm having way too much fun to take my eyes off the road and look at them.
The Nissan's interior is techy and functional, but just doesn't feel special enough for a Rs 2.12 crore sportscar.
It's a bit uncanny at first, actually, because prior to this, we haven't really seen this level of performance from a Japanese car in India; they're usually about reliability and fuel economy. The closest we've had is the Mitsubishi Evo X and Nissan's own 370Z. But this is on a whole different level – a high-tech sportscar with near-supercar levels of performance, and it feels unlike anything I've ever driven before. I'm literally giggling at this point, much to Kuldeep's annoyance, and I can't remember the last time I've exclaimed my opinion of a car out loud without a video camera pointed at my face. "What is this grip!?" "How the hell is this possible!?" "Hahahahahahaaaa!" – that sort of thing. It's a mad, exhilarating rush from corner to corner, accompanied by all manner of turbo whooshes and a nice snarl from the V6, but every time I slow down for a tight turn, I hear a familiar eight-cannon salute bearing down from behind.
Nissan's real-time readouts are wonderfully geeky.
The Incredible Hulk
It's a testament to Rahul's driving skill (and bravery) that he's never more than a few moments behind me in that car on this road. When it comes to ease of driving, the AMG GT R is everything the Nissan GT-R is not. The driving position is super aggressive, the seats are rock hard and the ride even harder, the view out is abysmal, it's hilariously wide, the steering is quick to the point of being twitchy, and though the rear tyres are sticky, 325-section Michelin Pilot Sport Cups, they have to bear the force of 700Nm all on their own. This car is rear-wheel drive and it just loves to remind you of it. Even in the safest setting of the race-spec nine-stage traction control system, it's more than willing to spin its tail into a small frenzy, which can be fun, if your idea of fun is scaring yourself a little at every corner. 
The AMG is as dramatic inside as it is outside with micrometre-perfect build quality and high-quality surfaces.
So, does that make it bad? Quite the contrary. What you need to acknowledge instead is that it's a very serious car, and you have to drive it as such; in fact, it's basically a GT3 race car with air conditioning and number plates. It exists to separate the wheat from the chaff when it comes to drivers. If you give up on it early on because it seems too much to handle, you'll never taste the sweetness of its full potential. It makes you work for the speed, for the thrills, and if you keep at it, the rewards are immense. The joy of stringing together a set of bends perfectly will put a big toothy smile on your face, that is, if the baritone violence from the exhausts hasn't already.
Race-spec AMG traction control has nine settings!
However . . .
This car may be road legal, but it lives its best life out on the race track. It may be the range-topping AMG GT, but it is also (in fact, more so) the company's hardcore track weapon. Everything that makes it difficult on the road makes it incredible on the track, and a circuit is really the only place you'll be able to reap the benefits of the AMG GT R's ultra-clever active aerodynamics. The Nissan GT-R may be quicker in everyday use and in a drag race, but it would be left for dead by the AMG on a hot lap. In fact, my first encounter with the Green Meanie was in the safe confines of the Buddh International Circuit (BIC), with its wide run-off areas, and I was having the same kind of fun you read about in the second paragraph of this story. Racing driver Christian Hohenadel, who'd just set a new lap record for the BIC with that very car a few months earlier, told me he would turn the traction control dial to a new setting at every corner, and that the additional downforce from the aero means the GT R drives entirely differently to the lesser AMG GT S. That's how focused it is!
And the interior reflects this too. It's all superbly crafted and solidly built from dark Alcantara with minimal use of contrasting colour, a steering wheel that's almost square in shape with the centre point marked out, snug bucket seats with barely any cushioning, and a carbon brace bar that's the only separator between the 'cabin' and the 'boot'. The Nissan GT-R is so much more accommodating in that respect. It's got big, soft leather front seats, a proper luggage compartment and even a pair of barely-there back seats. If it wasn't for the awful ground clearance (an issue with the AMG too, incidentally), this Katana sword might have also made for a great grand tourer.
AMG's exhaust soundtrack is a big part of its appeal.
But here's the rub. Though Nissan made a huge effort to scale up the cabin ambiance with the 2017 version of the GT-R, it still doesn't have the quality, finesse or solidity you expect when you pay upwards of Rs 2 crore. The design is unique and different from all other Nissans, and the cabin layout does have a techie and sporty appeal to it, but there's just too much plastic, and even the leather upholstery doesn't have the rich feel this sort of money demands. Would the superb driving experience be enough to make you turn a blind eye to the cabin you'll be spending all your time in? For many, I'm not sure it would.
Surprisingly comfortable despite the massive wheels.
Tochigi vs Affalterbach
For two cars with such similar names, similar price tags and similarly ballistic performance (just look at the chart to see how close the numbers are), they really have nothing in common. Okay sure, they both also use twin-turbo motors at the front, coupled to dual-clutch transaxle gearboxes at the rear for an ideal weight distribution, and they both have coupé body styles, but that's it. The bifurcation starts with the way they look – the Nissan appears longer and taller, with more straight lines and a more traditional two-door shape. The Merc is entirely cab-rearward, ending in a hatchback boot, and it looks preposterously wide, because it is.
Merc's front seats are firm and super supportive.
But it's the propositions they offer that are truly poles apart. The Nissan GT-R's performance is just so much more accessible that even a first-time sportscar buyer could get used to it in an instant. Plus, it's comfortable and even relatively practical. It does, however, lack a bit of drama and poser value, and the interior is just not worthy of the price.
The AMG GT R is bursting at the seams with drama – whether it's the overwhelming noise or the fact that the tail is ready to step out at any instant. Also, you'd be foolish to have it in any colour other than this 'AMG Green Hell Magno'. And it's a high-end Mercedes, so it's built to the same standard as an S-class. But seeing as how regular access to race tracks is a privilege afforded to a select few, would you really be willing to put up with a rattled spine and an upper body workout every time you left the house for a drive?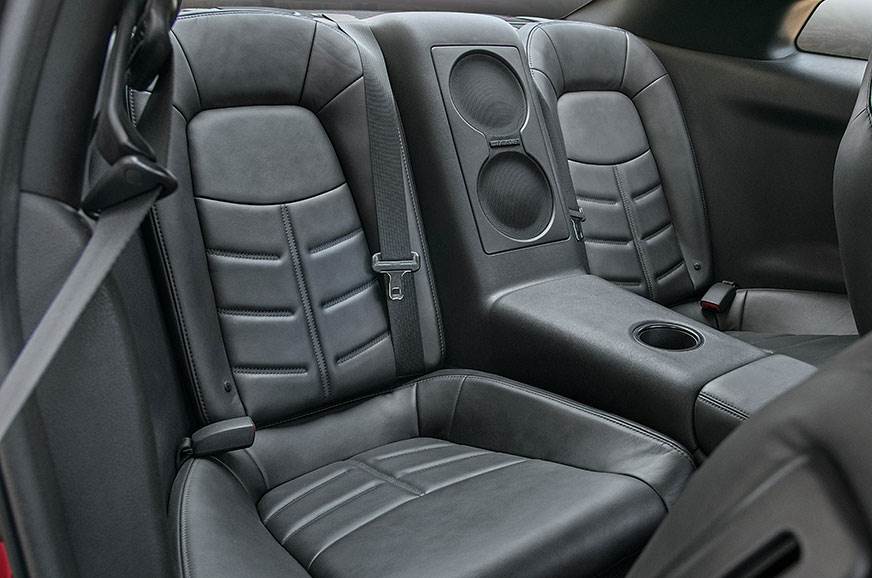 They're small, but the Nissan's rear seats are a bonus.
Picking a winner is hard because it could get quite subjective, and frankly we're glad to have just brought these two together on the same stretch of road. But, given the roads we have to work with and the skill required to pilot each of these cars effectively, we'd recommend Godzilla; just suck it up and get used to that interior. However, if you simply must have an AMG GT, stick with the GT S, as unless you're on a racetrack, it's 95 percent of the way there.