12th Sep 2018 1:26 pm
The funky new Kicks that's headed to India in 2019 will be different from the car that's currently on sale in markets such as Dubai. We, however, head to the desert megapolis to get a first taste of what Nissan has cooked up.
 It's hot. Very hot. Stepping out of the car feels like I've just lowered myself into a warm bath. The sensations are near identical – the instant heat-soak, the warm permeating feeling… it could have something to do with the fact that we are now properly into the desert. And that the temperature gauge reads 48deg C! FORTY-EIGHT degrees! Just 30 seconds outside is enough to get me to break into a sweat. And when I say sweat, I mean sweat; there are rivulets running down my head.
Still, I can't resist a quick look at the car from the outside. Must say, Nissan has done a good job. A company that has regularly pushed the boundaries when it comes to SUV design with cars like the Murano and the Juke, the styling of the Kicks works so well because it blends a traditional upright SUV cabin with modern design cues.
Angled headlights don't emphasise width of the SUV.
The silhouette, for example, especially the tall passenger compartment and the flat bonnet, make it look like a proper SUV. And that little bit of cladding adds some rugged appeal too. It doesn't look like a relic though; there are plenty of modern details here. The wheel arches are pushed out, much of the detailing is aggressive, and Nissan has even bent significant amounts of sheet metal to make it look edgy and modern. I'm not a big fan of the jaunty angle at which the headlight and grille meet, but that apart, I absolutely love how the front wheel arch blends into the swage line that runs all the way to the tail-light. The tipped-forward stance and the floating roof work superbly, and around the rear, the tight muscular styling is well executed too. So, as far as the design is concerned, it's a job well done. The car for India will be around 100mm longer and we'll also get larger wheels and better-looking alloys.
Ten minutes of sweating later, I get straight back into the air-conditioned cabin of the Kicks. Nothing to do now, but lower my head, put the blower on full and use the air conditioner as a hair-dryer. Must confess, this is the third time today I've thanked American inventor Willis Carrier for his stellar work on refrigeration and cooling. Air conditioning – what a significant milestone in the ascent of man.
A bit of an underbite makes it looks mildly aggressive.
Also, Nissan's air con is putting on a good show here and proving to be a lifesaver. There's no climate control on this base version I'm driving and that means there's no temperature to set, but set to max, blower on full, it cools the cabin pretty effectively.
What Nissan has also executed nicely is the cabin. Despite this being a base version, the design works. I'm immediately drawn to the sporty but practical three-spoke steering wheel. Modern airbag tech now means the steering boss can be much smaller than in the past and the steering has a well-sculpted rim and a flat bottom for an even sportier feel. What we are likely to get in India is a leather-wrapped steering wheel with attractive double stitching, and on some versions, this could be extended to a leatherette dash cover, with an attractive seam running right through it. And though it reflects a bit, I quite like the shimmering fish-skin-like texture on the dash.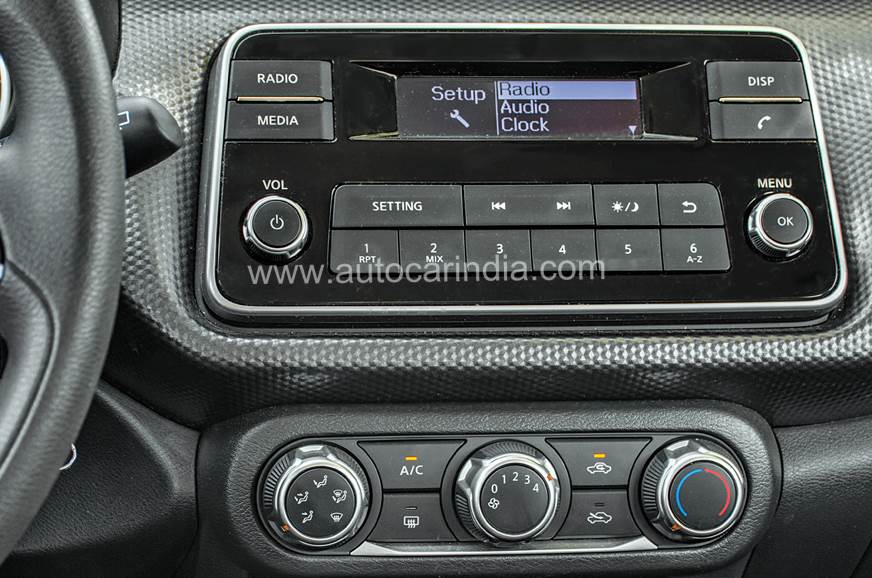 'Metal' highlights are nice; 8in touchscreen for India.
What Nissan has also executed quite impressively are the metallic highlights on the centre console. The audio system isn't flush-mounted on the dash but pops out, and the good bit is that it gets a nicely executed metallic frame. The knobs get 'metal' highlights and lower down, the knurled air con controls get metallic highlights too. The centre console in India will come with an 8.0-inch touchscreen (taken from the Altima sedan), with Apple CarPlay and Android Auto, and there will be a climate control system as well.
While the instrument panel is neat, legible and has attractive-looking dials, our car is also likely to get a TFT screen in place of the tachometer on the higher-end versions. And since Nissan has decided to throw everything but the kitchen sink at the Kicks, we'll also get attractive brown interiors similar to those seen on cars from Infiniti, Nissan's luxury car brand.
Generous bootspace; Kicks for India could have more.
What I also particularly like are the seats. The front seats offer superb lateral support, the cushioning is spot on and because you have a slightly elevated driving position, the Kicks doesn't feel like it is a sedan or a large hatch. Even the seats at the rear are nicely executed. There's a decent amount of thigh support and the backrest is reclined at a comfortable angle. The seat itself, however, is placed slightly lower than the one on its natural rival, the Hyundai Creta. But Nissan again has an ace up its sleeve here. The car for India will be longer than this one (around 4.4m); it will have a longer wheelbase and will be taller as well, and that will mean more space and legroom for passengers at the rear. Ingress and egress will be easier too, as the rear doors will be larger.
Those of you who enjoy travelling with a lot of luggage will undoubtedly appreciate the boot space. There's a very useful 432 litres under the parcel tray, and because the seats split, you can carry even more luggage or bulky cargo should the need arise.
Front seats have good lateral support and are comfy.
The route we've chosen today includes all sorts of roads and surfaces – city streets, wide open highways, smaller mountain roads and even dirt tracks and sand. And initially, the
Kicks works just fabulously. This evolved version of Nissan's Xtronic CVT is much more responsive now,and there's even less stretch and strain in traffic. In fact, for the most part, there's just no rubber-band effect. What helps, of course, is that I'm not using full throttle in traffic, and Nissan also seems to have paid particular attention to the responsiveness of this 1.6 at low speeds. So keeping up with Dubai traffic feels almost effortless.
The Kicks continues to impress on the faster intracity roads. Our support car for the day is a Ford F150 pick-up truck with a 5.0-litre V8 under the hood, and, as a result, I need to use a lot of throttle to keep up. This is especially at roundabouts, after which the Ford seems to just fly away effortlessly. Still, the 118hp, 1.6 petrol has enough grunt to make the driving feel reasonably engaging. And once Dubai's infamous speed cameras dissolve into the desert sands, the Kicks holds on to higher speeds quite easily. In fact, this larger 1.6 petrol is so much better than the 100hp, 1.5 we have in India; Nissan and Renault should seriously consider making this upgrade, despite the slight tax penalty. The engine of choice in India, of course, will be the still impressive 110hp, 1.5-litre diesel, found under the hood of many Renault-Nissan cars; its combination of torque, power and efficiency are difficult to match.
As we get onto smaller roads, we come upon many stretches that lead straight into the desert, and as the dunes in the background look stunning, we venture forth. Perfectly manicured roads soon give way to sections that have plenty of gravel and broken surfaces that don't seem like they've been re-paved over for decades. And it's here that the SUV disappoints a bit. Ride quality is brittle, there's a lot of pitter-patter over broken surfaces, and powering over rough sections causes the suspension of the Kicks to …well, kick a lot. A lot of this is down to the fact that the car I'm driving is based on the Micra platform. Famous for being extremely light and infamous for having a very light build, Nissan in India, however, plans to give the Kicks a significant upgrade. The car for India will have a floorpan and suspension similar to that of Nissan's radical compact SUV, the Juke. The carmaker says this much-evolved platform is a lot more robust and better suited to the roads in India.
The Kicks even feels a bit out of sorts when we come upon a hilly section. Yes, the SUV, even as it is, is reasonably stable in a straight line, the steering is light and easy to use, and when you place it in a corner, it doesn't roll too much. Still, this version seems almost disinterested when you show it a corner, and even driving it in a mildly spirited manner brings no real dividends. Here's hoping that the Juke floorpan and the uprated suspension and steering system make driving it around a bit more pleasant.
Smart wheel cover design looks like an alloy wheel.
The Kicks for India holds a lot of promise and potential. An impressive diesel engine, a good amount of space on the inside, nicely designed and appointed interiors, plenty of delight features and even an uprated suspension with the possibility of four-wheel drive at a later stage. Yes, in its current shape and form, the Kicks isn't well suited to our conditions and requirements, but if Nissan delivers on its promise, updates and specifies the car generously, and prices it aggressively, it certainly has the potential to take on the current king of the segment, the Creta. Of course, there will be others in the same space, so the competition is set to hot up, but get it right and the Nissan could be right in there, with a good shot at success.
Source link