17th Oct 2018 5:16 pm
Is the new 1260 Enduro your two-wheeled passport to seeing the world? We find out.
What's new?
A lot of it is. First, the obvious bit – the 1260 Testastretta DVT engine; this motor is the same as on the recently launched road-going version of the Multistrada and that sounds like nothing but good news to our ears. While it's hard to be displeased with a 158hp output figure, what takes the cake is the 128Nm of torque it produces, that too with a substantially stronger torque curve (especially in the mid-range, i.e. between 4,000-6,000rpm) than the outgoing model. A 6-speed gearbox mated to the up-down Ducati Quick Shifter is standard.
Also heavily revised, if not exactly new, is the electronics suite, which includes a six-axis IMU, cornering ABS, four extremely tailorable riding modes (Urban, Sport, Touring and Enduro), Ducati Wheelie Control and an updated version of the proven Skyhook suspension package. The 5.0-inch TFT high-res full-colour display is new as well and a very big development is the launch of the Ducati Link app, which not only records detailed performance and trip data, but also gives you the choice to alter the bike's setup on your device itself.
Is it less intimidating now?
Yes, and that was Ducati's core focus when developing the new Enduro. It went about trying to make this happen by primarily making thoughtful modifications to the bike's overall geometry and also, of course, by relying on its well-acknowledged strength in recent times – electronics.
Firstly, Ducati reduced the Enduro's suspension travel at either end (to 185mm, down by 15mm) to make it better suited to a wider range of riders. The standard seat height, too, has been dropped by 10mm to hit the 860mm mark. A low seat height option is available (840mm) and those with no fear of heights can also opt for a high-seat option (880mm). Ducati has also lowered the handlebar by 30mm and the foot peg rubber by 10mm, all of which makes it easier to control, especially in tricky off-road conditions and regardless of whether you happen to be seated in the deeply carved saddle or standing up on the pegs.
The electronics package is phenomenal as well, because you can tailor every aspect of the bike's responses, dynamics and safety assists to a bespoke degree. The user interface is intuitive as well, but the Ducati Link app is surely a great tool as much as it is a great way to show off.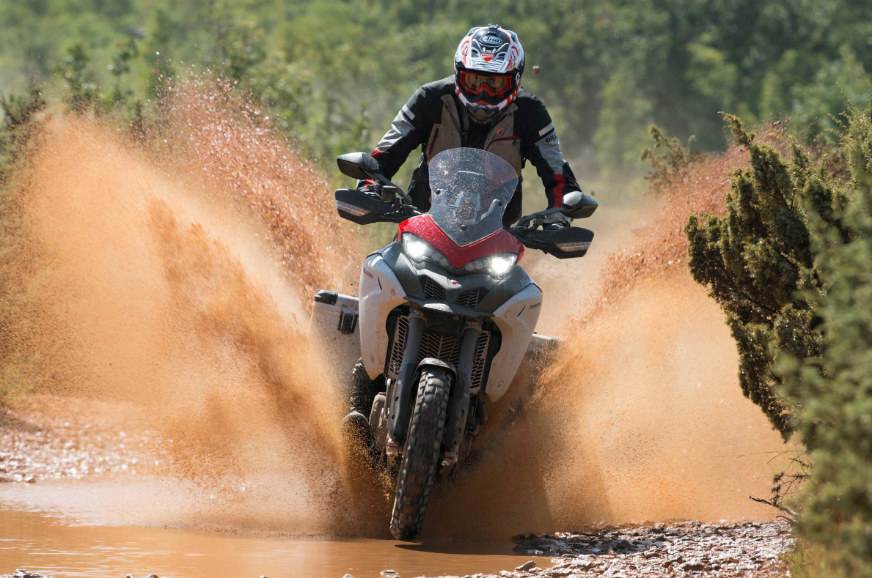 Can you really ride it off the road? Or is it just a poser?
Truth be told, it never was just a poser. However, it has now gone a few notches higher in its abilities and also in terms of its controllability. I first rode it with all electronics turned off, just to gauge how inherently good (or bad) the Enduro is, and that made a lasting impression. The last motorcycle I rode was the Suzuki V-Strom 650 XT, which makes less than half the power and is lighter as well, so how naturally the Multistrada went about tackling off-road sections is a solid testimony to what Ducati's engineers have achieved. You get great feedback from either wheel and the throttle offers terrific modulation and control, which is crucial when you have such tremendous reserves of power and torque.
The lighter swingarm is something I noticed instantly, since you can easily gauge where the rear wheel is placed off the road, and also how willing it is to change tail-end direction (i.e. in a slide or over lateral bumps). With the rider assists engaged as per your requirements, you feel even more empowered to venture into the outdoors and it can get you out of some really tough spots (think of any low-grip/traction situation) as long as you can maintain the required input and, equally, your trust in the machine.
Having ridden the older Enduro extensively, I can confidently say that the revised ergonomics make a big difference to how much more you can extract out of every riding situation. With experience and the right riding techniques, you can use the Enduro as a serious off-road machine; and the best bit is, it's got far more than adequate firepower to get you home very quickly if you choose to take the well-paved motorway back home after a gruelling day riding up a trail. The Enduro comes equipped with tubeless Pirelli Scorpion Trail II tyres (19-inch front, 17-inch rear); the more serious Scorpion Rally tyres are a straight fit, too, and this is the tyre I rode with off-road. The tyres, having been developed specifically for this bike, work like a charm off the road and offer good grip even on tarmac. The 320mm twin-disc front brake setup with Brembo Monobloc M4.32 callipers offers good bite and great progression, and you can use the 260mm rear disc with a two-piston calliper to good effect off the road as well.
Overall, the new Enduro is a noticeably better adventure motorcycle than the one it replaces and although it still is, undoubtedly, a very large machine, it takes you generously  further away from the dreadful possibility of crashing it. Riding it in extreme conditions can get taxing, given its dimensions and its 256kg kerb weight, but someone with good fitness levels (not me, then) can extract something incredible out of the Enduro.
Is this the best there is out there?
If you want a blend of analogue character with a high degree of sophisticated technology, then yes, it is. Mind you, the BMW R1200 GS Adventure is still the refinement benchmark but it can come across as numb to some of you. The Tiger 1200 comes close as well, but for all its potential, it lacks a sense of youthfulness and excitement. The nimble Honda Africa Twin is hard to beat off road, but its huge power deficit translates to less than desirable highway performance on a scale of relativity. That leaves you with the Multistrada 1260 Enduro, which can be a typical Italian brat when you want it to, but still has the DNA of an evolved, universally palatable highway mile muncher. And with Ducati providing it with a backbone of supremely dependable electronics and an appreciable service schedule (15,000km oil change interval and the big Desmoservice set at 30,000km), you can realistically plan a trans-continental odyssey without much to be anxious about.
When can you buy one?
Ducati says the new Enduro will reach Indian shores in the first-quarter of 2019, which leaves you with roughly six months to save up for it. The Enduro will be globally showcased on November 4, 2018, and will subsequently go into production in, both, Italy and Thailand (our bike will come from the latter facility). Given the additional kit and ability, it will be fair for Ducati to charge a premium for the Enduro over the Multistrada 1260 S which costs Rs 15.99 lakh for the base model and Rs 18.06 lakh for the 1260 S. Now, six months of saving up can't be easy, so how about you also use this period to plan that dream ride to Africa?
Also see:
2019 Ducati Multistrada 1260 Enduro unveiled
Ducati Multistrada 1260 Pikes Peak launched at Rs 21.42 lakh
Ducati Multistrada 1260 vs rivals: Specifications comparison