12th Sep 2018 8:00 am
Your first inline-four could very well be one of these two fast bikes. We do the math to pick one.
I must declare, at the very onset, that I am prodigiously disappointing at math. It was in the seventh grade that I had begun to accept this truth and it came attached with no real remorse. Over a decade later, I still while away my Sundays pointlessly waiting to apply Euclid's theorems to one of my life's few problems, but as I had accurately suspected, it was all just a waste of time. In seventh grade, I had far more important issues to deal with. Such as, what superbike I was going to buy on the day I would turn 18.
I'd pore over international motorcycle magazines, all of which seemed to suggest it would have to be a Japanese inline-four-powered rocket of sorts. Then came a few technical glitches. Firstly, when I turned 18, there was no such motorcycle on sale in India. And then there was the small matter of not having enough (or any, rather) money to buy one. The motorcycle enthusiasts of today have it a lot better, though. There is a multitude of big bikes to pick from and, in a rather incredible turn of events, the most affordable inline-fours are available from names as big as Honda and Suzuki.
I am, therefore, pretty thrilled to find myself hunched over the handlebar of the Suzuki GSX-S750. Cutting through the intense fog is proving to be hard work and it's not being made easier by the heavy thundershower smattering against my visor. But the S750 is locked and loaded. It responds with a serious readiness, its bassy howl providing an instantaneous soundtrack to every blip of the rather sharp throttle. For a moment, the fog clears just enough for me to shoot into the straight that lies ahead, and the Honda CBR 650F in my mirrors becomes a speck in an instant. This is foolish, I know it. We pull over.
A round of piping hot tea brings huge respite, and we settle our gazes on the two bikes parked by the hard shoulder. The CBR, even when it was first launched in India in 2015, wasn't a particularly thrilling motorcycle to look at. The 2018 version, swathed in matte black, does nothing to stand out either, but it's still a good-looking motorcycle from all angles. The LED headlight looks quite like the one on the new X-Blade and, overall, it's a proportionate design but not an evocative one in the least.
In comparison, the S750 looks mean. It takes the minimalist approach, with a majority of its mass being positioned centre-forward but a few details – such as the meaty USD fork, the tightly stacked quartet of headers sprouting from its cylinders – give its intent away. This isn't a motorcycle you'd call pretty, but it is imposing from just about anywhere you look at it. The S750's 'no fat, all muscle' approach goes with the times whereas the CBR sticks to the brief we daydreamed of in our growing-up years. In the late '90s, all we ever wanted was a fast, full-faired inline-four; today, everyone wants naked bikes for reasons of practicality. These two symbolise our rapid evolution as a motorcycling audience to perfection, then.
Hop on board and the generation gap between the two becomes even clearer. With 101cc, 28hp and 21Nm of torque more, the S750 is clearly better equipped to deal with the informed enthusiast of today. As if that weren't enough, it also decided to rope in the services of a three-level traction control unit (which can be disengaged, if you so wish). To make all of this work, it then figured an adjustable (for preload) suspension package at either end was a must, apart from delivering on the usual prerequisites of a twin-disc setup, fat rubber, a USD fork and a monoshock. The S750 also features a compact but neatly laid-out instrument display, which issues readouts on range, gear position, and fuel consumption, in addition to the usual functions.
In comparison, the CBR seems austere. Its 648cc, inline-four is good enough for 86.6hp and 60.5Nm of torque, and that's pretty much all it has to offer. Apart from ABS, which both bikes feature, there is no electronic rider assist on the CBR. Both motorcycles also skimp on ride-by-wire, but there's something wonderfully organic about the feel of cable-controlled throttle action, so we aren't complaining. To round off its list of toys, the CBR sports an LED headlight, which is, frankly, nothing to write home about in terms of its real-world performance, and a split digital dashboard that is easy to read even at speed but looks dated. Switchgear quality on either motorcycle is great although both feature annoying headlight flashers which require you to take your thumb off the 'bar; the CBR's switches could do with some ergonomic rethinking for the horn and indicators as well.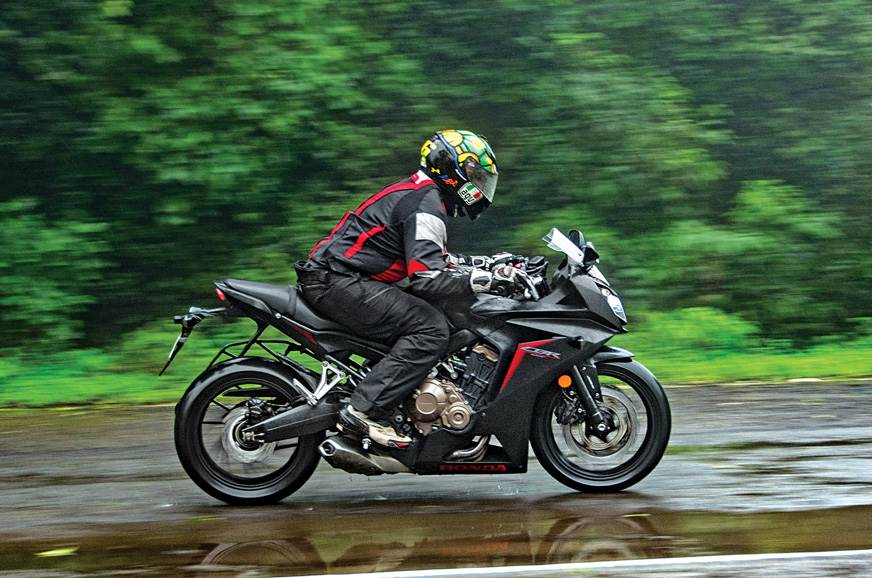 Swing a leg over and this disparity thins out. Contrary to what you'd expect, the CBR is comfier than its configuration suggests – that is, despite its clip-on handlebars. It seats you in a largely undemanding position for a bike of its format, and the seat, too, is very comfortable for long days in the saddle. The S750 is quite aggressive for its breed. The wide tank takes only some time to get used to, but the handlebar, despite being a conventional unit, is almost flat and that means you've got to reach out to it. I'm no fan of this, to be honest, because, to me, the added stress is the very antithesis of a naked motorcycle. Its split seat is sportier too, and it is the less pillion-friendly unit of the two bikes.
With the lashing rain unwilling to relent (it's also the reason we've been unable to put this duo through our test cycle), we decided to move on from our elaborate tea break, albeit with caution. The S750 is instantly more involving. This is an athletic motorcycle with sharp reflexes that can't be taken lightly. It's an exciting motorcycle to begin your inline-four romance with, but it can also be quite fearsome. Brutal acceleration is a given considering you have 114hp on tap, and it sounds a lot angrier than the CBR, too, thanks to its engine which is sourced from the legendary K5 (2005) GSX-R750. It's a motorcycle you have to exercise restraint on because the potential to do something silly is a lot higher. My standard practice of disengaging traction control on test bikes isn't yet proving to be a handful, though, and that shows how well-honed it is. Apart from the occasional wheelie, the S750 is still very manageable.
The S750 gets a split-seat but it's narrower and has no grab rail.
 The CBR is easier on the mind, in comparison. It's a fast bike, alright, but it doesn't feel threatening in any way. The sugary-sweet four-cylinder motor is linear and predictable, and its six-speed gearbox makes for effortless shifts. It's undoubtedly slower than the S750, but in the real world, it's as capable of sustained high speeds. Both motorcycles attain 100kph in top gear at 4,500rpm and feel equally at easy holding 150kph. What happens after that point is a question that shall remain unanswered for reasons of self-preservation. While both motorcycles are evenly matched on refinement, and neither is as honey-smooth as the imagination would like to believe. It's the CBR's engine-gearbox combination that appears to get along more amicably, but I suspect that is also because of its less aggressive power delivery. I must also bring up the good heat management characteristics on both motorcycles, which really helps when you hit a depressing traffic gridlock.
It's in the corners that the two emerge as polar opposites. The CBR's twin-spar frame facilitates seamless apex hunting, although it clearly doesn't enjoy lightning-quick directional changes. This is a 216kg motorcycle after all, and it shows. The conventional telescopic Showa dual bending valve fork is definitely a sophisticated piece of kit but it's tuned for softness and that also robs it of some agility. The fork also tends to bottom out surprisingly quickly and it's something Honda would do well to address, given how expensive a rim replacement can be. Having clocked a 1,200km riding day (through some very bad roads) on this very CBR just a few days prior to this outing, I can say that the CBR makes few compromises with respect to comfort, however. While that may not necessarily be what you want out of your first fast bike, a comfortable bike keeps you in the saddle for longer, and that's something few of us can complain about.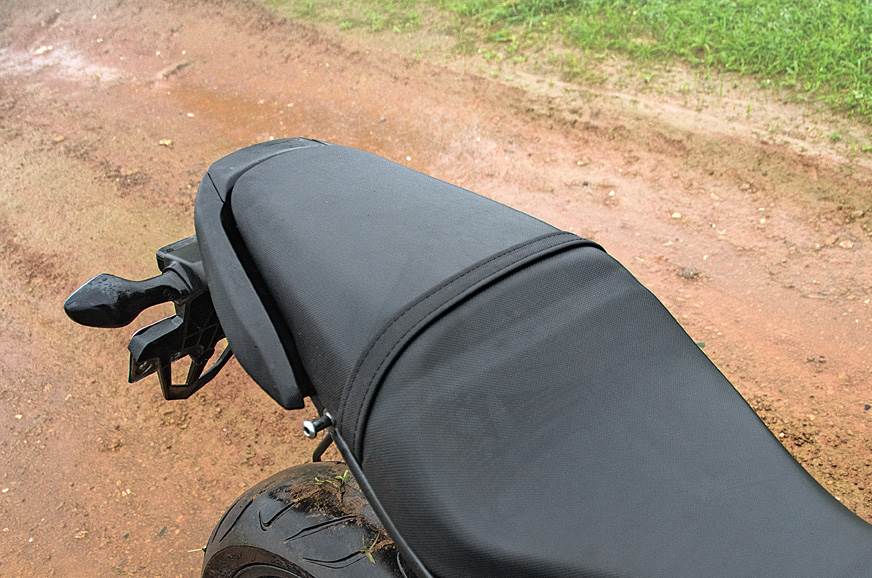 CBR's pillion seat looks less racy but is far comfier and offers a usable grab recess, too.
The S750 is more point and squirt. Oddly enough, it's only 1kg lighter than the CBR, but it has to power to compensate for it. It wants to make a manic dash on even the smallest of straights, get on the brakes very late, finish off with a corner as if taking too long would cost you money, and then wheelie out of it, every single time. Truth be told, the S750 isn't the bike to master the art of clinical riding on, but a ridiculously good one if all you want is to have a lot of fun. It's amazingly indulgent, especially if you have a bleak understanding of fear, and as an overall package, it's just fantastic. It's also noticeably sharper on the brakes – it better had be – although Suzuki's decision to go with rubber brake hoses is disappointing and there is some brake fade at the tail end of a hard ride as a result. On another note, I do prefer the S750's Bridgestone Hypersport S21 tyres, which are made specifically for it, over the CBR's Dunlop Sportmax rubber; the latter tends to spin up in tricky conditions and feels less sticky under hard cornering.
Rear-set pegs on the Suzuki feel right.
At the end of a long day in the saddle, I'm spent but happy. For one, this comparison didn't turn out to be the no-brainer I thought it was going to be, having being led to the conclusion by the spec sheets. There's a lot I rather like about the CBR. This is a relatively basic but sufficiently fast machine with nothing repulsive going on about it. If owning a superbike is your ultimate goal in life, the CBR 650F is a great place to water that ambition. It's capable and will keep you riding and learning – without any life-altering events – until you're ready for the next step up. In the process, you will get bored of its company – something a crate of aftermarket accessories will solve momentarily – but in buying one, you're making no grave error of judgement.
Rubber-top foot pegs on the Honda are comfy for touring.
The GSX-S750, priced at Rs 7.46 lakh (ex-showroom, Delhi) costs just Rs 9,000 more than the CBR, and for that, you get a lot more motorcycle. It's got a clear edge on power and also sports higher-grade tech and components, but what makes it better goes beyond just the sum of its parts. The S750 certainly demands you to be prepared for a more serious degree of performance, but it is also a monumentally more fun motorcycle to ride and is, therefore, the one to buy. Having solved this pressing issue, and with nothing left for you to daydream about, you can now pay attention in class and figure out what Euclid was on about, I suppose.
Technical specifications
Suzuki GSX-S750
Honda CBR650F
Engine layout
Inline-four
Inline-four
Displacement
749cc
648.7cc
Power
114hp at 10,500rpm
86.6hp at 11,000rpm
Torque
81Nm at 9000rpm
60.5Nm at 8500rpm
Power-to-weight ratio
530.23hp per tonne
400.92hp per tonne
Gearbox
6-speed
6-speed
Chassis
Twin-spar frame
Twin-spar frame
Wheelbase
1455mm
1449mm
Seat height
820mm
810mm
Ground clearance
135mm
133mm
Fuel tank
16 litre
17.3 litre
Kerb weight
215kg
216kg
Front suspension
41mm USD fork
41mm telescopic fork
Rear suspension
Monoshock
Monoshock
Front brake
310mm twin disc
320mm twin disc
Rear brake
240mm disc
240mm disc
Tyrre size (f/r)
120/70-ZR17 / 180/55-ZR17
120/70-ZR17 / 180/55-ZR17
Price (ex-showroom, Delhi)
Rs 7.46 lakh
Rs 7.37 lakh
Rating
8/10
7/10
THE GRASS IS GREENER…
…on Kawasaki's side. Yes, had the Z900 been a part of this test, the verdict may have been quite different. You see, the Z900, with its ultra-smooth 125hp, 948cc inline-four engine is more powerful than the two bikes we've compared here, and, at 210kg, it's also the lightest one of the lot. The result is a motorcycle that's peppy, unstressed and also very nimble.
With a preload/rebound-adjustable USD fork, it's got the legs to match its grunt and the lightweight trellis frame makes it a delight in the corners. It gets a slip-and-assist clutch and ABS, but, at this power level, the lack of any rider assists is a concern. Further, Kawasaki spare parts costs are notoriously expensive, something the Suzuki does far better and the Honda admirably so. At Rs 7.68 lakh (ex-showroom), the Kawasaki is the most expensive bike of the three, but it's absolutely worth it. Unfortunately, we suspect someone let the good times roll a bit too much with Kawasaki's press fleet motorcycle, which should explain its absence from these pages.
Source link