29th Aug 2018 8:00 am
If sheer power is what you are looking for, this is the list you need to look at.
5. 2018 Suzuki GSX-R1000R
Power – 202hp
Price – Rs 19.80 lakh
Spawned from MotoGP racing in the 1970s, the GSX-R series from Suzuki has been around since the 80s, and it has more than a few laurels to its name. Whether it is on the racetrack or road racing, the GSX-Rs have always been a force to be reckoned with. In its latest avatar, the 2019 GSX-R1000R makes an impressive 202hp and 117.6Nm of torque from its 999.8cc, inline-four engine. Suzuki says that its new bike is the most powerful, hardest accelerating and cleanest running GSX-R ever. In the world of modern-day litre-class bikes, electronics are key and Suzuki has finally stepped up with a three-axis IMU-based electronics package on the GSX-R1000, and a five-axis one on the GSX-R1000R. This includes a 10-level traction control system (Motion track TCS), Suzuki's Low-RPM Assist system, Easy Start System, and ABS. The bike also has a MotoGP-derived VVT system, which results in a punch in power and the engine revving more freely.
4. Kawasaki Ninja ZX-10R, ZX-10RR and ZX-14R
Power – 210hp (with RAM air)
Price – ZX-10R (Rs 12.80 lakh), ZX-10RR (Rs 16.10 lakh) and ZX-14R (Rs 19.70 lakh)
Taking fourth place are three Kawasakis. Two of the three (Ninja ZX-10R and the ZX-10RR) are litre-class superbikes, while the Ninja ZX-14R is the company's naturally-aspirated hypersport motorcycle. The ZX-10R and ZX-10RR are powered by a 998cc, inline-four engine that makes 200hp (210hp with RAM air) and 113.5Nm of torque. The RR is basically a more track focussed bike and features grippier tyres and lightweight forged wheels, among other changes.
The ZX-14R is a completely different motorcycle and uses a 1,441cc motor that makes 200hp (210hp with RAM air) and 158.2Nm of torque. Unlike its litre-class siblings, the ZX-14R offers more relaxed dynamics, is pillion friendly in comparison and is a better option to cover long distances at high speeds.
3. BMW HP4 RACE
Power – 215hp
Price – Rs 85 lakh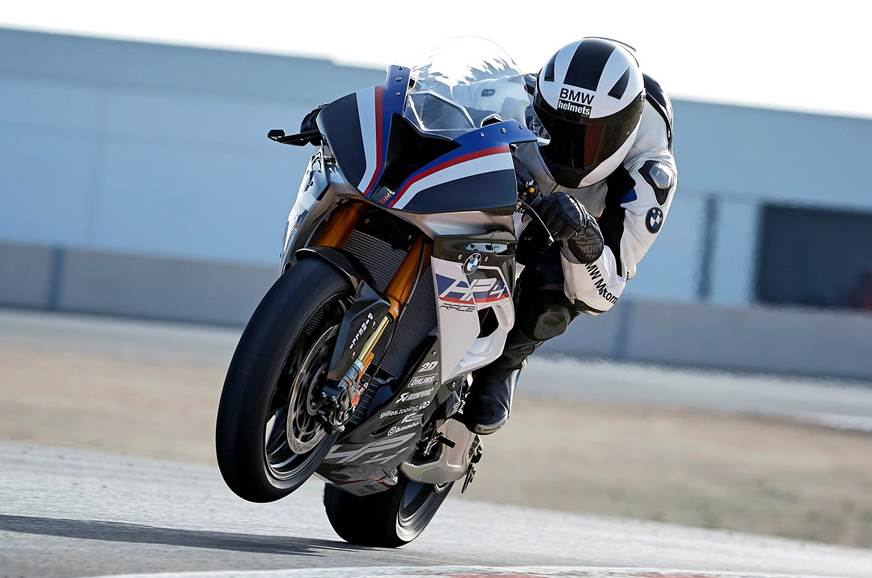 The HP4 RACE is a track-only flagship litre-class bike from the German brand and it's the first production motorcycle to feature a carbon fibre frame and wheels. The bike also comes equipped with top-shelf braking hardware, suspension and electronics from the motorcycling world. Unlike the standard bike, the HP4 has a race-spec engine that makes 215hp and 120Nm of torque. BMW has said that this motor will require a full rebuild every 5,000km. Like the engine, the gearbox on this bike has been made for racing as well. The bike uses a six-speed close-ratio transmission. Since it's a track-specific bike, it is fitted with Pirelli slick tyres. The BMW HP4 RACE is available in only one colour scheme and is limited to 750 units worldwide.
2. Ducati Panigale V4, Panigale V4 S
Power – 226hp (with optional Akrapovič exhaust system)
Price – Panigale V4 (Rs 20.53 lakh) and Panigale V4 S (Rs 25.29 lakh)
With the Panigale V4, Ducati replaced the iconic L-Twin motor with a new four-cylinder power plant. The Desmosedici Stradale engine is a 1,103cc, 90-degree V4, producing 214hp and 124Nm of torque. And if this wasn't enough, there's an optional Akrapovič exhaust system that adds a further 12hp, which takes the total to 226hp! The electronics package on the Panigale V4 S includes ABS Cornering Bosch EVO, Ducati Traction Control EVO, Ducati Slide Control, Ducati Wheelie Control, Ducati Power Launch, Ducati Quick shift up and down, Engine Brake Control EVO and Ducati Electronic Suspension EVO. You can read more about the tech on the bikes here.
1. 2019 Kawasaki Ninja H2 range
Power – upto 326hp (with RAM air)
Price – Ninja H2 SX (Rs 21.80 lakh), Ninja H2 SX SE (Rs 26.80 lakh), Ninja H2 (Rs 34.50 lakh), Ninja H2 Carbon (Rs 41 lakh) and Ninja H2R (Rs 72 lakh)
There are now five motorcycles in the H2 range, namely the Ninja H2, Ninja H2 Carbon, Ninja H2R, Ninja H2 SX and the Ninja H2 SX SE. All five bikes are powered by the same supercharged 998cc inline-four engine. That said, this engine is tuned to make 200hp (210hp with RAM air) and 137.3Nm of torque in the Ninja H2 SX and Ninja H2 SX SE. Meanwhile, in the 2019 H2 and H2 Carbon, this motor is tuned to make an impressive 231hp and 141.7Nm of torque.
In the H2R, however, it makes 310hp (326hp with RAM air) and 165Nm of torque. The incredible power figure makes it the most powerful bike on sale today. But, it is not road-legal just like the BMW HP4 RACE.
BMW and Ducati prices are ex-showroom, India
All other procves are ex-showroom, Delhi
Also see:
10 most expensive bikes on sale in India
Top 10 fun-to-ride bikes under Rs 2 lakh
Top 5 bikes under Rs 4 lakh in India
13 fuel-injected bikes in India under Rs 1.5 lakh
Source link