6th Oct 2018 8:00 am
15 of the best driver's cars in India on India's best track with India's best driver.
It's a few minutes after dawn as we roll up to the gates of the track in Chennai. The sun hasn't popped out yet and there's an uncharacteristic cool breeze blowing. Once inside, we're in for even more of a surprise. We sort of don't recognise the place. Thing is, there's a swanky new pit and garage building, and the part glass and metal facade is a bit out of character with the rest of the track. The gritty old MMRT, well some of it at least, seems set to fade into the background. What is great, however, is that the facilities are much improved now. The pits now have shutters, there are fans, and each pit even has its own flatscreen TV and a well-made bathroom.
What hasn't changed too much, thankfully, is the track. Yes, there are a few more bumps, and it is
even quite lumpy in places. The car certainly moves around a bit more in C1 – the corner after the start/finish straight – and the kinks before the back straight upset the composure of the car a bit more too. Still, we can't wait to get started and watch Narain weave his magic from behind the wheel.
However, there's a lot to be done before we can be sliding around the MMRT. We need to be ready with our Vbox timing gear, we need to bump up the tyre pressure on each car by four Psi (over the recommended pressure), and our army of photographers and videographers need to be in place.
All eyes are, however, on the svelte lines of the Ferrari 488 Spider as we line up the cars. Will that twin-turbo V8 help give it a boost, or will the street tyres (Michelin Pilot Super Sports) hold it back? Merc and AMG's most hardcore piece of kit – the monstrous GT R certainly has the right track-biased rubber: Michelin Pilot Sport Cup 2s. The GT R is also a big step up on the regular GT. What AMG seems to have done is take the basic car to the gym and extracted all latent potential that resides inside. Then, direct rivalries don't come any hotter than BMW M versus Mercedes-AMG, and with the M5 squaring up against the E 63 S, which one will be quicker on the track? Both have upwards of 600hp, both can be driven as rear- or four-wheel-drive cars, and both have a back seat and a boot. Fast sedans don't get any better than these. This year, we are also fortunate enough to have both, the Audi S5 and the RS5 – the sporty and very sporty versions of the A5 four-door coupé; this is sure to give us a unique perspective. Porsche's 718 Boxster will be quick, but will the 2.0-litre, four-cylinder engine have enough grunt? This year we also have an Aston Martin at the track for the first time – a DB11 with a turbocharged V12 – and what we are all keen to find out is if Skoda's new 230hp Octavia RS can go faster than the Polo GTI did last year. And then there's the popular Swift. Yes, it is lighter and will be faster in a straight line. But just how much faster will it be?
Narain's methodology for getting a quick time out of these cars, as ever, is quite extreme. One out lap is all he needs to get to grips with the handling of a car. In fact, we sometimes exit the pit and get into corners one, two and three so hard, it actually seems like we are on a lap. Keen to find out just where the limits of the car are, he's often at ten-tenths, and sometimes over it. By the end of the lap, now with the tyres well warmed up and having 'downloaded' and digested the handling traits of the car, we switch off the air con, call the tower and start our flying lap. Wouldn't he be quicker if he did five or six laps? Absolutely; but then we'd have to be at the track for days, because in between every hot lap, we'd need two cooling down laps. And that would take forever. But now, to the cars.
FORD ECOSPORT S
Lap Time: 2m21.39s
Track rating: 6/10
The suspension is softer than before and the ESP cuts in early, which doesn't help you go quick.
The EcoSport created quite a furore back in 2013 when, with a mere 1.0-litre engine, it set a lap time of 2:19.3, going faster than many cars it shouldn't have been faster than. This facelifted and retuned car, however, isn't as quick and posted a time of only 2:21.39. The slower time is down mainly to two reasons according to Narain: "Less outright punch from the turbo and a more comfort-oriented suspension setup". He also found that the ESP cut in too aggressively (probably due to roll mitigation and the high centre of gravity) and then it didn't allow him to get back on the power quickly enough, losing time. It's nicer on the inside and more comfortable on the road, but there's no doubt, dynamically, the new EcoSport gives away a lot.
MARUTI SWIFT ZXI+ (2018)
Lap Time: 2m18.44s
Track rating: 7/10
It's actually quite nice at the limit but the mileage- oriented tyres take away a lot from the dynamics.
Almost 100kg lighter than the outgoing Swift and 2.28sec faster to 100, the new Swift set a much quicker time than the outgoing car; it's 2:18.44 is considerably faster than the earlier time of 2:19.30. The steering is a bit too light at low speeds and there's no centre feel, but Narain actually liked the overall balance of the car at high speeds. And that it was keen to point into corners rather than away. He liked the gearbox a lot too, and that the steering improved as he went faster. What prevents it from getting a better lap time are the tyres that actually just aren't up to the job on a track. "It should have gone a bit quicker honestly. Yes, it is a second quicker than the outgoing car, but Honda's Brio is still almost at quick".
SKODA OCTAVIA RS (2018)
Lap Time: 2m06.80s
Track rating: 9/10
Quite impressive for the RS to post such a quick lap time. Having a stiffer suspension helps for sure
More power, a lowered suspension and fatter wheels – Skoda's RS was so quick, it almost took the crown of the fastest front-wheel-drive car. A full 4sec faster than the 1.8 TSI per lap, this is the first full-fledged RS from Skoda to hit Indian showrooms, and the results speak for themselves. "You can clearly feel how strong the engine is, and it has a nice playful balance to it due to that clever front differential. Also, considering the size of the car, for it to do a 2.06 lap is super." It could have been quicker still with the replacement tyres (Michelin Pilot Sport 4 instead of Hankook Ventus S1 Evo 2), according to Narain, and we had some amount of brake judder. So, if you factor that in, it could have been quicker than the Polo GTI's time of 2:05.65.
MERCEDES-AMG S 63 COUPE
Lap Time: 2m01.44s
Track rating: 6/10
It's odd to have a real luxury car on a racetrack. I didn't want to push it initially, but the pace is there.
Merc's opulent big coupé is based on the S-class limo, so clearly this isn't a car meant for the racetrack (we're not quite sure how it landed up here). But the crazy bit is that because it's an AMG, and comes with loads of performance, it actually posted a pretty good lap time. Narain really didn't want to push it on the track, but once he got into the grove, he enjoyed the overall balance, the massive torque from the engine and the fact that he could get it sideways quite easily. "Air suspension is unique to have on a track. It is very comfy and swallows up kerbs easily, and you can even go sideways and have fun. It isn't as quick, but actually compares quite well with the
Aston when it comes to character and performance."
AUDI S5 SPORTBACK (2018)
Lap Time: 2m01.34s
Track rating: 9/10
The well-tuned quattro system allows for slip at the rear and allows you to take a sharper line. Nice.
Every now and then, Audi gets the balance and setup of one its cars just right. And then, if the car also happens to have one of Audi's energetic, rev-happy and powerful engines under its hood, it makes for a great overall package. This is the case with the new S5."Audi has got the 4WD setup spot on here," Narain says with total conviction. "Where the earlier car had a lot of understeer, this new S5 is a lot of fun. Despite being a 4WD, you can slide the car quite a bit on the track, and this allows you to take sharper lines, and, more importantly, exit corners with a lot more throttle. Even the ride is quite nice and not bone-shattering stiff, so on the road, this S5 should be a phenomenally good car. I really like this one."
ASTON MARTIN DB 11
Lap Time: 1m59.92s
Track rating: 7/10
It's a GT designed for cruising in comfort, but put your foot down and the big V12 doesn't disappoint.
The Aston, another debutant at our track day, looked just stunning in yellow. "This is more of a grand touring car, and so it's probably not well suited for track use. Nevertheless, it was quite competitive. Its big V12 engine sounds the part, it has plenty of grunt, the chassis lets you carry a fair amount of speed and it isn't too intimidating to drive quick either," said a pleased Narain. In fact, look at the table and you can see it isn't too far behind the big sedans when it comes to cornering speeds. Sure, in some places, the weight of the car takes its toll, but to put in a similar time to a Ford Mustang is quite impressive. "It does a great job as a gentleman's express, but will be much better suited to the open road."
PORSCHE 718 BOXSTER
Lap Time: 1m59.02s
Track rating: 7/10
The chassis is phenomenal as ever, but it can handle much more power than the 300hp it has.
Porsche is all about evolution and continuously moving forward. This, however, isn't exactly true here, as the new 718 is slower than the 2011 Boxster S. Yes, the chassis is dynamically phenomenal. The mid-engine setup means it takes bumps at speed, without getting kicked off the line or tossed around. It is as willing as ever to attack corners and as Narain says, "Dynamically, it is everything you expect from a Porsche. But one thing's for sure, you miss that flat- six engine, especially its seamless power and its lightening responses." Yes, this four-cylinder puts out 300hp and that's quite a bit, but the engine doesn't quite have the grunt you expect and want. In isolation, the 718 is still fantastic and loads of fun, it's just that the engine it came with earlier was so much better.
AUDI RS5 COUPE (2018)
Lap Time: 1m57.55s
Track rating: 8/10
There's a lot of understeer and it requires a different approach to get a good lap time out of it.
The RS is sportier than the S, and, logically, it should be faster. Still 4sec is quite a lot, and let's not forget, it even went faster than the Porsche Boxster 718. The suspension is much stiffer and the car clearly has a lot more grip, but Narain didn't think the setup was as nice. "This car has a lot of understeer built in, so we have the 4WD system kicking in and this causes the front axle to keep 'push', until you let go of throttle. As a result, this car requires a different driving style to extract the maximum performance. Narain was also quite clear, "The S5 is a lot easier to drive fast on the track rather than the RS5 because it lets you slide the rear and point it into the corner more naturally. And that's why I like it more".
BMW M5 (2018)
Lap Time: 1m56.82s
Track rating: 8/10
The engine is phenomenal but it isn't as fluid or as effortless to drive at the limit as it should be.
It takes Narain only a few corners to announce, "The character is pretty different from the old F10 M5". The "monstrous engine" as ever is a big plus point and it is phenomenally quick in a straight line. "And 194kph on the back straight is mega for a four-door sedan". Unfortunately, the new M5 feels very skittish to drive at the limit. Yes, in general, and even at high and medium speeds, it feels a bit lighter on its feet and more agile than the earlier car, but once you get to the limit, it just isn't as fluid or as effortless as you would want it to be. Wonder if BMW should have stuck to rear-wheel drive – braking into corners is always nicer, would have been easier to rotate and it would also have been better balanced from mid-corner to exit."
VW VENTO (TC4-A)
Lap Time: 1m55.48s
Track rating: 6/10
It's got the potential for sure, but VW still has a lot of work to do as far as the setup is concerned.
The TC4-A has been developed to meet new Indian touring car regulations for 2019, which allow for turbocharged engines up to 2,000cc and a minimum weight of 1,150kg (driver included). The Vento shares the same engine, gearbox and electronics as the Ameo Cup car, but produces 210hp
(5hp more), and has an aggressive setup. The Vento registered higher speeds in places where the stability of the longer wheelbase and the wider track must have helped. It was quicker in C1 and at the exit onto the straight, but, surprisingly, it was the Ameo Cup car that registered the higher top speed. The Vento was half a second slower, but Narain put that down to the fact that the setup of the car was incomplete. "There's still lot of work to be done," he said simply.
VW AMEO CUP (2018)
Lap Time: 1m54.88s
Track rating: 8/10
Purpose-built for young drivers to learn to race professionally. It's pretty quick too.
We already tested the Ameo Cup car last year, so what's it doing back at our track day? The car now has retuned springs and dampers, more torque from the engine, and much improved MRF slicks. True to form, the Cup car went a full two-and-something seconds faster. The car is much faster down the straights, it exited corners at a higher speed and felt more planted in longer corners as well. "It's nice that a series like this has a purpose-built car for young drivers to learn racing in. Obviously, the setup has a lot of safety built in, but what I like is that there's a proper roll cage, slick tyres, six-point harness and aero as well," said Narain. If you are a young budding driver this is where you need to start.
MERCEDES-AMG E 63 S (2018)
Lap Time: 1m54.25s
Track rating: 9/10
Unbelievable pace, the overall balance is just superb. There is some understeer to drive around though.
"I am surprised," says Narain, genuinely perplexed, "I drove the M5, jumped into this car . . . and this feels much better. The setup is more compliant over the bumps, it is both more willing and playful
at the limit and the harder you drive it the nicer it feels". It even set a super time – 1.54 on this track for a sedan is just fantastic. And that's around 2sec faster than the M5. The chassis has a bit of understeer initially, and that can catch you out, especially over bumps and kinks, but once you get on the throttle it is so easy to balance, you can make full use of that crazy twin-turbo V8. It is an amazing 7kph faster onto
the start/finish straight and almost 10kph faster into the first corner or C1.
FERRARI 488 SPIDER
Lap Time: 1m51.00s
Track rating: 9/10
The handling is neutral and fantastic. Almost anyone can get in this car and set a good lap time here.
The Ferrari set a very quick time. "A low 1:51 is very fast time for any car, but to do it without having the rigidity of a roof is just fantastic". Despite being a turbo, the engine is very responsive. "You don't have lag in the bottom end and it goes to the redline very quickly and keeps pulling in all the gears. This means you often don't have to go at a lower gear and you can carry lot of momentum." Narain was clearly impressed. And the harder you drive it, the better it gets: sharper, more incisive and even more confidence-inspiring. "To top it off, the handling is very neutral; almost anyone can drive this car hard." The 488, however, came on street tyres, Michelin Pilot Super Sports. It would have gone much quicker with the Pilot Sport Cup 2 tyres and that's for sure.
MERCEDES-AMG GT R
Lap Time: 1m48.36s
Track rating: 10/10
It's not easy to drive at the limit, but feels very similar to a track car once you get to grips with its handling.
Merc's giant-killing GT R shocked everyone by doing a quicker time than last year's record holder the Porsche 911 GT3 RS. "I am surprised . . . this is unbelievable," said Narain, looking for the right words. "It isn't the easiest of cars to drive at the limit and the short wheelbase probably makes it a bit twitchy, but for us racing car drivers, this feels just like a track car". What also helped give it an edge are the track-biased Michelin Pilot Cup Sport 2 tyres that allow you to carry massive speed into corners: how about 143.64kph at the exit of C1? And then the engine is so strong we did a top speed of 205.58kph on the back straight; faster than we've previously gone here. "They have taken a lot of inputs from Lewis Hamilton here, I am sure."
JA MOTORSPORT INDE 2.0 (2018)
Lap Time: 1m42.54s
Track rating: 8/10
More power, a bigger rear wing and better downforce help it go faster. It's loads of fun to drive.
This is the new version of the Inde 2.0 track car made by JA Motorsport. Narain drove the earlier version in 2013, but this one has more power, better aero and more downforce. So, in essence, it is a car that is set up to go faster. And it did. Narain did a 1:42:54 compared to a 1:43.30 earlier; and that's without any real setup, a partly wet track and only one timed lap before the rain came down. "Wish I could have got a few more laps; this car can now easily do a 1.39 lap." It's still quite difficult to drive and the heavy steering means you need to fight the wheel quite a bit, but Narain also found it to be quite a bit quicker on the straights and had a bit more grip and confidence in fast corners.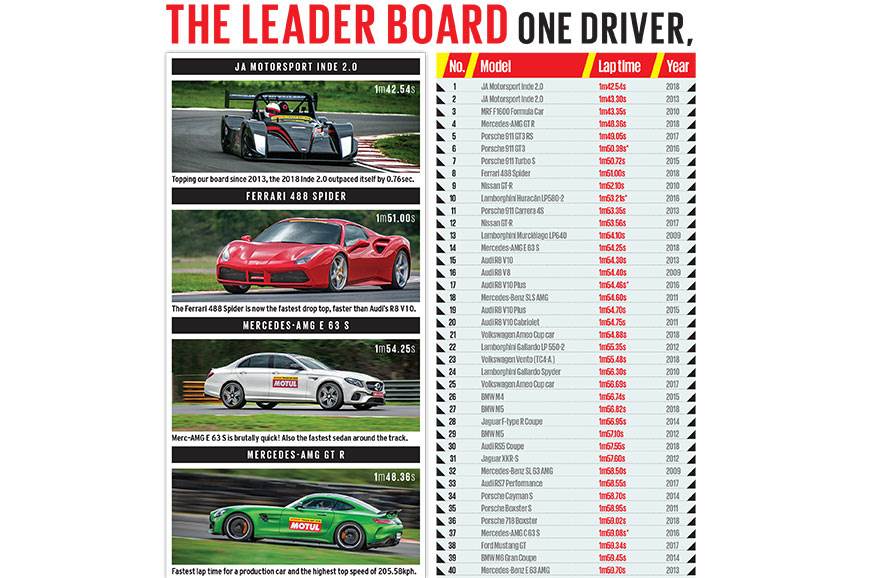 BEHIND THE SCENES
You sure the 205kph top speed is right? Autocar's Rahul and Ashish of Zen Mircosystems check the data.
Every year, our track day becomes more and more of a logistic challenge. More cars, more people, more shots to be taken, more cameras, more footage, more data . . . .more, more, more. And this year, we even had more rain. So much so that day two was almost a washout. Thankfully, the track dries out fast and we had plenty of help from the helpful MMRT staff. The rains also meant it wasn't as hot as it has been in previous years, and that the crew, the photographers and cameramen were a bit more comfortable. But the logistical challenges were still there. "Hello, sir. Your car hasn't reached yet. Do you know where the truck is?" And then even when they come on time, some are filthy, others are low on fuel and some cars come with tyres that are less than perfect for the job on hand. Still, track day, as always, is awesome.
All I'm getting are ads. What radio station is this?
Source link